Christmas crafts being one of the most widely celebrated holidays is around the corner. It's time to paint the air with the red, green and golden color,
have fun with families and friends, and also enjoy the merriment and the cold weather that the season holds.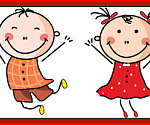 It's time for the kids Christmas crafts! As the season arrives, being a parent you might have this questions running through your mind; How do I create that special memories and also bond with my family and friends?
What do I need to do to make this year's Christmas holiday a special one for them, especially the kids? I need ideas to make Christmas crafts with my kids to keep them out of the snow… what will I do?
Christmas Craft Ideas for Kids
I don't want to spend too much money in creating Christmas crafts… where can I get less expensive supplies? Here at ChristmasUSAHoliday.com in this article, we will share Christmas craft ideas you can do with your family members including the kids and friends during this special holiday.
We will show you those Christmas craft ideas you don't need to waste a lot of money on, all the supplies you need are easy to get; some are right there in your house, in fact your kid have them already, you are just unconscious of them.
The essence of these Christmas craft ideas information is to help you create that special moment and to help you bond with your family (kids especially) and friends in a creative and less expensive
way.

Here are the lists of Christmas craft ideas you can try out with your kids;
• MAKE USE OF  PAPER:
By Making use of papers such as brown paper grocery bag, white paper, card board etc. you can create crafts as follows;
Santa Claus craft – paper Santa hat, Santa star
Christmas stocking craft – brown paper Christmas stocking
Christmas wreath craft
Angel craft – paper plate angel
Snow flake craft – snow fake decorations and card, paper snow flakes
Snowman crafts – paperplate snowmen
Reindeer craft – paper bag reindeer puppet
Christmas Decoration craft
Christmas Elf Craft – Elf boots, elf hats, Christmas elves
Christmas Present Crafts
Christmas star crafts
Gingerbread crafts – ginger bread people, ginger bread house card, paper string of ginger bread people.
Holly crafts
Nativity crafts – use it to tell them stories of jesus birth
Christmas bell decoration craft
Christmas collage
Dove of peace craft
Make paper basket
Christmas bookmark
Christmas sleigh
Wrapping paper bubbles and chains

• MAKE USE OF THEIR HANDS & FEET:
You don't need to go far with these, just make use the paper or cloth material, color paints and your kid's hands and feet. With these you can make crafts such as;
Hand print poinsettia
Hand print wreath
Hand and foot print reindeer
Hand print Christmas tree
• MAKE USE OF SIMPLE MATERIALS:
Get material such as; beads, bottle, glass, water, candles, threads or ropes, pine cones, pins, candies, foam etc. you can make necklaces, ornaments for Christmas tree and so on.

Candy train
Christmas Candle craft – christingle
Christmas fuse bead pattern
Christmas pudding Crafts
Beaded ornament
Christmas craft foam decorations
Christmas snow globe
Make Christmas Stained glass window
Christmas cracker craft
Penguin crafts,
Robin crafts,
Glittery pine cone decoration
Christmas pomander
Poinsettia picture
• MAKE USE OF THE KITCHEN:
Yes! you can make use of your kitchen to create Christmas craft ideas, and as a parent using this method will help you
in teaching your kid some creative recipes, you know they will learn how to cook… make them love the kitchen!
Glittery play dough
Popcorn garland
Candy cane tree topper
Citrus ornament etc
• GET PRINTABLE MATERIALS:
Purchase printable materials you can use easily for crafts, printable craft materials such as;
Christmas window silhouette – printable Christmas window silhouette templates can be purchased online
Christmas book activity to print
Christmas gift tags to print
• GET PRINTED MATERIALS:
You can use this medium to develop your kid reasoning abilities and creativity as well by purchasing some printed activity books and worksheet, such as;
Christmas reading or comprehension worksheet
Christmas writing worksheet
Christmas math and pattern worksheet
Christmas words in many languages book
Christmas drawing and coloring worksheet and so on