Author Bio:
Kent "The Deck Chef" Whitaker is the former winner of the Emeril Live / Food Network barbecue contest. He's a culinary writer and cookbook author – his newest title is Great American Grilling. He also writes about College football, the NFL and NASCAR for several media outlets. Look for him online at thedeckchef.com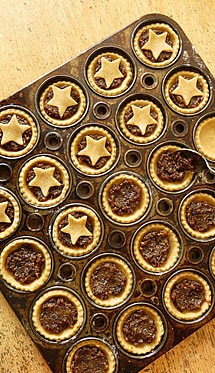 Holiday Mincemeat Pie is a holiday favorite for many and a source of doubt for many younger food lovers. I remember growing up wondering what in the world mincemeat was. If you still have doubters in the house about what a mincemeat pie is, then follow my mom's advice.
When I was eight years old I asked my mom what was "mincemeat" made of. After all, it was the holiday season with Christmas around the corner. It's an eight-year-old kid ask questions about food items not normally seen during the course of the year.
Her answer was a confession that she was not really sure what the ingredients were. So, being a teacher, she looked up the ingredients in a cookbook. After we read recipe description mincemeat we decided on a new name. It was something along the lines of "candied fruit holiday pies." It was just easier Holiday Mincemeat Pie.
Today you can go to the store and pick up prepared mincemeat pie fillings off the shelf. In fact, this week's recipe is just that. A quick and easy mincemeat pie made from a store-bought starter and then finished off with some added flavor Holiday Mincemeat Pie. I hope you enjoy the recipe!
*********************************************************************************************
Quick And Easy
Holiday Mincemeat Pie
1-8 oz jar prepared mincemeat
1-1/2 cups chopped walnuts
2 large apples, peeled, cored and diced
1/2 cup packed brown sugar
1/4 cup rum or brandy
1 tablespoon fresh lemon juice
2 prepared regular pie crust not deep dish.
Combine the filling ingredients in a large bowl and chill for as long as possible before baking. Chill at least one hour or overnight if possible. Place the filling in one of the pie crusts.
Place the other pie crust over the top the Holiday Mincemeat Pie. Pinch off excess and pinch together edges. Bake in a 425-degree oven. Brush top with some butter and brown sugar before removing from the oven. Bake for about 30 – 40 minutes. Serve warm with whipped cream or even ice cream.
*********************************************************************************************
Mini Mince Meat Party Poppers
Use the same ingredients as the pie filling above but place filling in puff pastry cups, mini pie cups or even small muffin tin cups lined with frozen pie crusts cut to fit. Bake until crusts are golden brown. Sprinkle with a tiny bit of brown sugar before christmas serving.