Christmas is already just around the corner! The little ones are starting to be more well-behaved than normal. They have kept to heart these familiar lyrics which they have heard over and over being sung at their favorite TV shows and just about everywhere:
You better watch out
You better not cry
You better not pout
I'm telling you why
Santa Claus is coming to town
He's making a list,
Checking it twice;
Gonna find out who's naughty or nice.
Santa Claus is coming to town
He sees you when you're sleeping
He knows when you're awake
He knows if you've been bad or good
So be good for goodness sake
What's sad though is that the song's admonition of "be good for goodness sake" has been glossed over and supplanted by its announcement that "Santa Claus is coming to town." And Santa Claus,

as now often taught by adults to their children, is a jolly, white-bearded overweight fellow in a red suit who just loves to give away gifts on Christmas eve unconditionally. It's sad because it has been used to turn Santa into every commercial establishment's favorite Christmas mascot, a grossly exaggerated caricature of a real Christian saint who devoted his life to the service of others.
Now, if you want to give your children a less materialistic take on what Santa and Christmas are all about, why not take a look at this brand new book : Santa Claus, Gift of a Servant.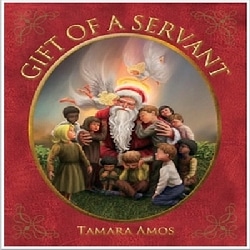 Released off the press just this October 1st, it is the fictional tale of a father who blames Santa for the holiday hysteria that has taken over Christmas. He blames Santa and decides to wait up for him on Christmas Eve to demand his resignation. When Santa comes, however, he gives Dad an unexpected gift: a glimpse into the heart of his mission to bring "gifts of love from Heaven above" to God's children, reminding them that Christmas is about sharing the love of Christ. Written in verse in a style that calls to mind the classic "Twas the Night Before Christmas" poem, it makes for excellent bedtime reading to children under 7 years old.
Written by Tamara Amos and richly illustrated by David W. Luebbert, the book is available in deluxe hardcover, e-book, and kindle editions. It has earned positive reviews from critics and has so far already won the following book awards:
International Book Awards: Christian Inspirational – Winner
Mom's Choice Awards: Children's Religious Picture Book – Winner, Gold
Beverly Hills Book Awards: Holiday – Winner
Global Book Contest: Children's Fiction – Winner
Readers' Favorite Readers' Choice Awards: Inspirational Poetry – Winner, Silver
Indie Excellence Awards: Gift book – Winner
Indie Excellence Awards: Religious Children's Book – Winner
Indie Excellence Awards: Holiday – Finalist
San Francisco Book Awards: Spiritual – Runner-Up
Paris Book Festival: Spiritual – Honorable Mention
Hollywood Book Festival: Spiritual – Honorable Mention
New York Book Festival: Spiritual – Honorable Mention
5-Star Readers' Favorite Rating
According to Mrs. Amos, the author, "People are upset that Christmas is becoming so commercialized and many are ready to get rid of Santa, who is becoming an icon of consumerism. But, Santa is part of our childhood, part of our culture, and tradition. In our hearts, we want to hold on to what he truly stands for without 'throwing the baby out with the bath water.'" She further said, "Christmas and its traditions are among the greatest treasures of our faith. For about two thousand years, people have found peace in this celebration of love, joy, and generosity. It's important that Christians preserve the integrity of our holiday and not allow the secularism and materialism of our present culture to rob us of its power to refresh the soul and heal the heart."