Whether or not there is snow this Christmas, why not theme your Yuletide celebrations with a traditional American winter wonderland motif. If there is snow, build a snowman outside your house along your front yard. It's easy and it's fun especially if you do it with the kids. Dress up your snowman and accessorize it.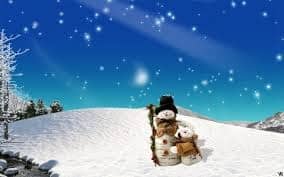 Surround it with props like a companion snow rabbit. You can even create a Mr. and Mrs. Snowman and family setting. If there's no snow, you can buy your snowman outdoor decor from your favorite party supply store. Or, you can make them yourself using papier-mache, cotton or Styrofoam material.
Winter Wonderland: A Magical Place
Indoors, you can hang those glittery plastic or cardboard snowflake decors about and around the house. On the walls, you can paste snowmen figures and winter scenes. On the dining table, you can dress up a cake or a batch of Christmas cookies to match your theme using just white frosting and assorted colorful toppings.
People have been building snowmen since Medieval times perhaps for no other reason than that they were moved by the spirit of the season.
Bob Eckstein in his wonderful, whimsical book, "The History of the Snowman", said: "No form of art is more public yet less judgmental than snowman-making. That's why it's the purest art form, fulfilling two primal instincts man has always held; the need to depict himself (whether in cave art, sculpture, etc.) and the urge to place one thing on top of another."
As for me, I love making snowmen, or even just having them around me, because they bring me back to a much happier place in my memory, a place I think many of you can associate with that timeless "Winter Woderland" Christmas carol.
Sleigh bells ring, are you listening,
In the lane, snow is glistening
A beautiful sight,
We're happy tonight.
Walking in a winter wonderland.
Gone away is the bluebird,
Here to stay is a new bird
He sings a love song,
As we go along,
Walking in a winter wonderland.
In the meadow we can build a snowman,
Then pretend that he is Parson Brown
He'll say: Are you married?
We'll say: No man,
But you can do the job
When you're in town.
Later on, we'll conspire,
As we dream by the fire
To face unafraid,
The plans that we've made,
Walking in a winter wonderland.
In the meadow we can build a snowman,
And pretend that he's a circus clown
We'll have lots of fun with mister snowman,
Until the other kids knock him down.
When it snows, ain't it thrilling,
Though your nose gets a chilling
We'll frolic and play, the Eskimo way,
Walking in a winter wonderland.